You can smell it, You can taste it,You can see it, But you cant have it.
Eddington Station.
All the reports of rain falling out west was bring music to our ears, flooding, roads cut, and bringing much needed relief to drought stricken property's.
Take Anthony and Rachael Anderson young family living their Australian dream making some very tough decisions.
Rachael and Anthony Anderson of Eddington Droughtmasters in February started to destock by selling 70 % of their cattle off Dusty's hut and Werribee Station, 40 km north east of Mckinlay, in the hope that they could fluke a bit of rain in the last stages of the wet season to keep their droughtmaster breeder herd going through the tough year ahead.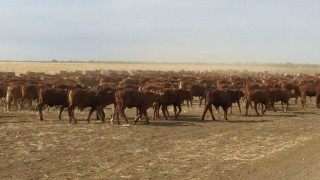 Eddington 20 KM west of Julia creek has reported 72 mm of rain in 6 falls from the 1/3/18 to 6/3/18.
The biggest fall was 21 mm on the 2/3/18.
13 km east of Eddington an including Julia creek received 9/10 inches.
Never the less it has been great soaking rain, the most valuable thing is the low was followed by a flood of eastern creek from rain upstream.
The flood covers 25 % of Eddington and allows a good body of grass to grow.
With the influence of weather like we have seen in the last week, here's hoping it's a turn around and they can get the follow up rain that is need in the short period of wet season that's left.
This system was very patchy with some country getting massive falls up to 350 mm, to places receiving next to nothing, all in the same shire.
(You can smell it, You can taste it,You can see it, But you cant have it.)