Location: Charters Towers
Yarding: Yarded 541
Wednesday – 16th May,
Charters Towers Combined Agents yarded a total of 541 hd. Cattle consisting of 367 Prime Cattle and 174 Store Cattle. The Prime Cattle consisted of 67 Bullocks, 24 Heifers, 239 Cows and 38 Bulls. Store Cattle consisted of 76 Steers, 90 Heifers, 8 Cows & Calves.

Cattle comprised of a limited number of Bullocks, Heifers and well finished Cows and Bulls, which were in good condition. One larger line was from Burketown and they were supported by small lots of Local and Western Cattle. The market improved for all classes.
Prime Quotes:
Heavy Bullocks were quoted as 18¢ dearer, Heifers were 3¢ dearer, Cows were 10-12¢ dearer and Bulls were 7¢ dearer, on last week's yarding.
• Bullocks topped at 253¢/kg for 10 Ox sold on a/c Lethbridge Pastoral Co, Hughenden that weighed 622kg to return $1574 per head.
• Best priced Trade Heifers were presented on a/c Amity Cattle that sold 225¢/kg to weigh 462kg and return $1041 per head.
• The top pen of Cows were sold by EJ & KL Camp for 205¢/kg and weighed 595kg to return $1221 per head.
• Bulls sold on a/c C & J Saunders topped at 272¢/kg and weighed 710kg to return $1932 per head.

Store Quotes:
Store Cattle were in short supply with only 76 Steers and 174 Heifers yarded. The yarding was of much better quailty
• A pen of 10 young Steers a/c Lethbridge Pastoral Co made 247¢/kg and weighed 300kg, returning an average of $741 per head.
• A good pen of 2 Heifers a/c M Parker, Charters Towers made 198¢/kg, weighed 285kg & returned an average of $564 per head.
• 1 very good local Cow & Calf sold on a/c EW & VR Butler returned $1380 per unit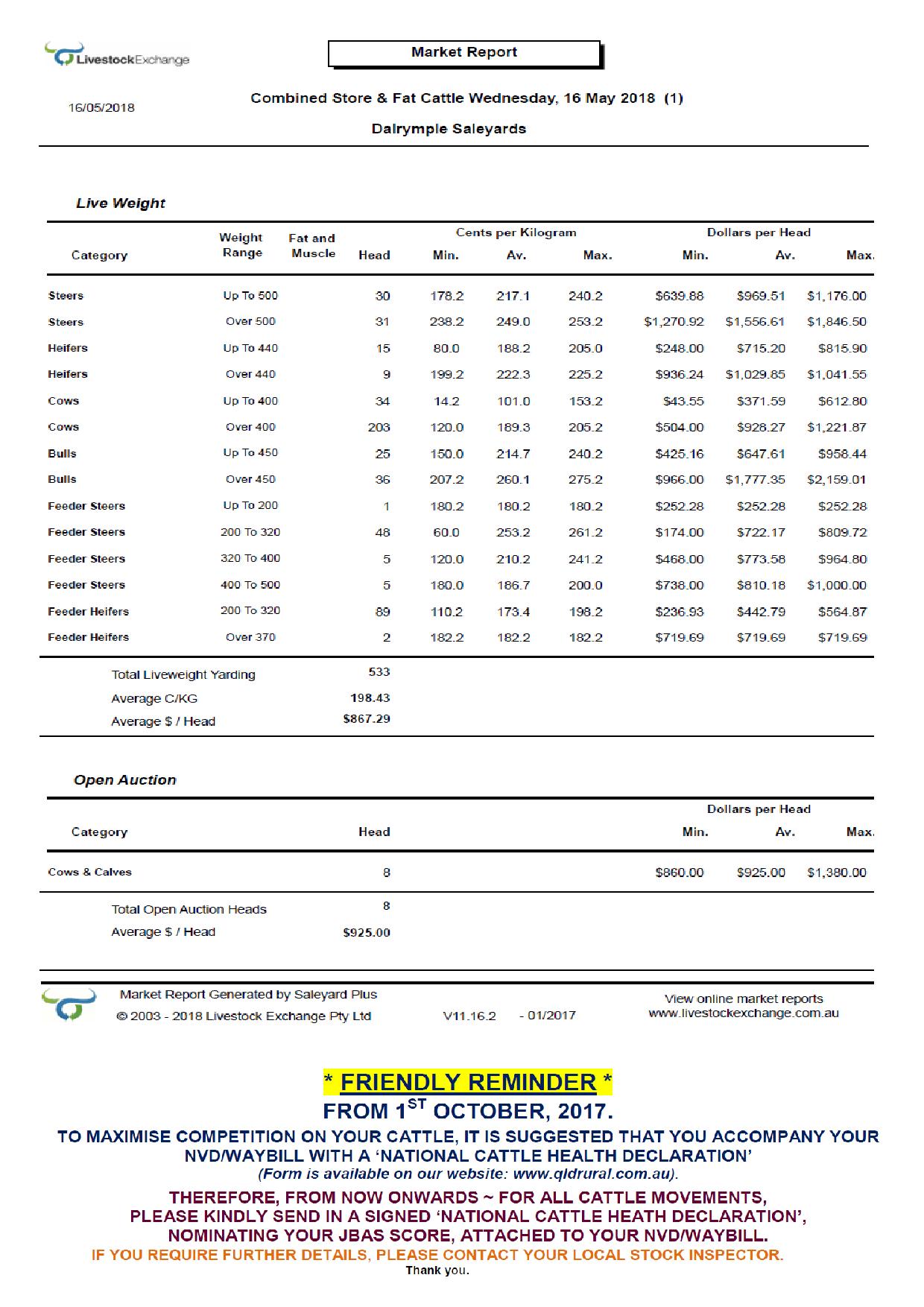 Related Articles