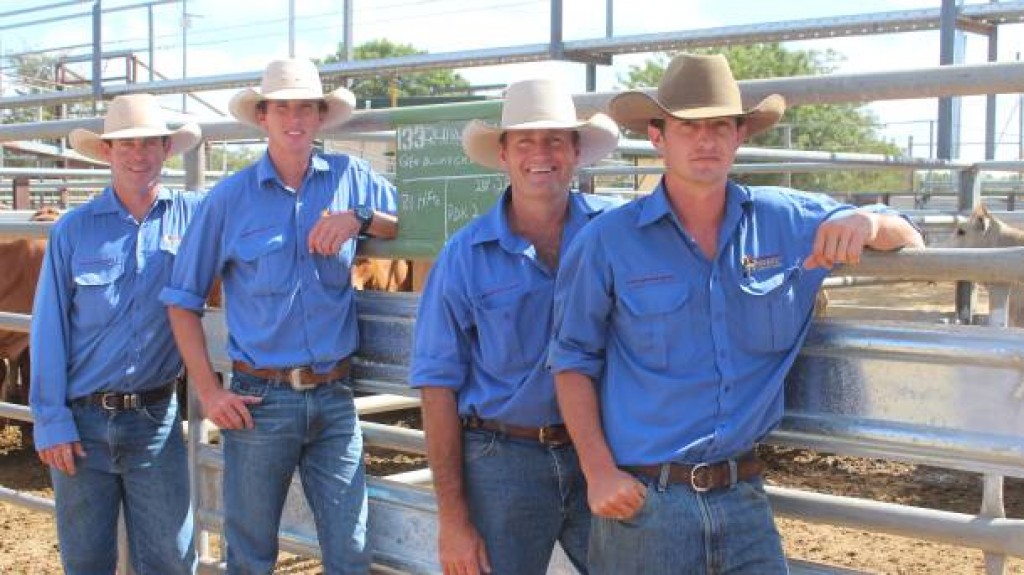 Location: Charters Towers
Yarding: Yarded 2587
Wednesday – 18th April, 2018

Charters Towers Combined Agents yarded a total of 2587hd. Cattle consisting of 1175 Prime Cattle and 1412 Store Cattle. The Prime Cattle consisted of 242 Bullocks, 111 Heifers, 776 Cows and 46 Bulls. Store Cattle consisted of 733 Steers, 619 Heifers and 60 Cows & Calves.

Cattle comprised of good lines of well finished grass fed Bullocks and Cows, with few Bulls on offer. The market was softer across all lines except Bulls where Exporters competed. There was competition across all lines from Meatworks, Feedlotters, Butchers and Exporters. The yarding was drawn from Georgetown, Forsayth, Einasleigh, Mt. Surprise, Richmond, Julia Creek, Mareeba, Hughenden, Chillagoe, Bowen, Local and Coastal areas. Bullocks were quoted 10-20¢ easier, Heifers were 15-20¢ easier, Cows were 20-30¢ and Bulls were 10-20¢ dearer, on last week's rates.
Prime Quotes:
• Bullocks topped at 252¢/kg for a pen of 14 Ox sold on a/c MG & HJ Breddan, "Lakeview", Balfes Creek that weighed 578kg to return $1,459 per head.
• Best priced Trade Heifers were presented on a/c Fry Bloodline Trust that sold for 220¢/kg and weighed 363kg to return $800 per head.
• The top pen of Cows were sold by JC Ross, "Starbright", Charters Towers, for 202¢/kg, weighing 509kg to return $1,029 per head.
• Bulls sold on a/c KJ & MM Taylor, "Ooralat Station", Mt Surprise, topped at 267¢/kg and weighed 610kg to return $1,629 per head.
Store Quotes:
Store Cattle were plentiful this week with good quality Steers and Heifers on offer. The market fell in line with other selling centres with better types selling to similar rates as last week.
• A pen of 30 Steers a/c KJ & MM Taylor, "Ooralat", Mt Surprise, made 310¢/kg and weighed 220kg, returning an average of $682 per head.
• A good pen of 19 Heifers on a/c KJ & MM Taylor, "Ooralat", Mt Surprise, made 228¢/kg, weighed 234kg & returned an average of $534 per head.
• 6 Cows & Calves sold on a/c K. Pearce, Charters Towers returned $1,320 per unit.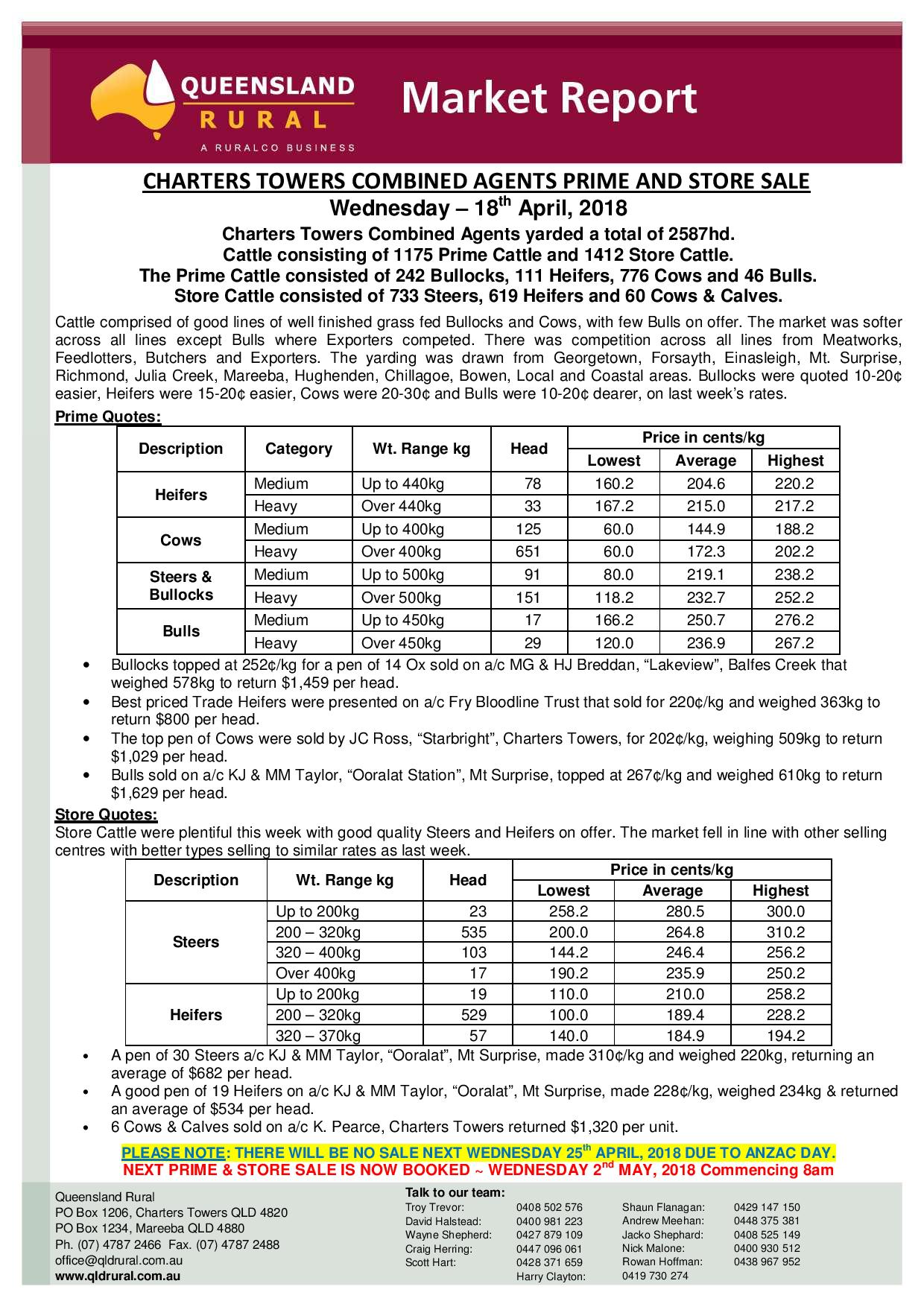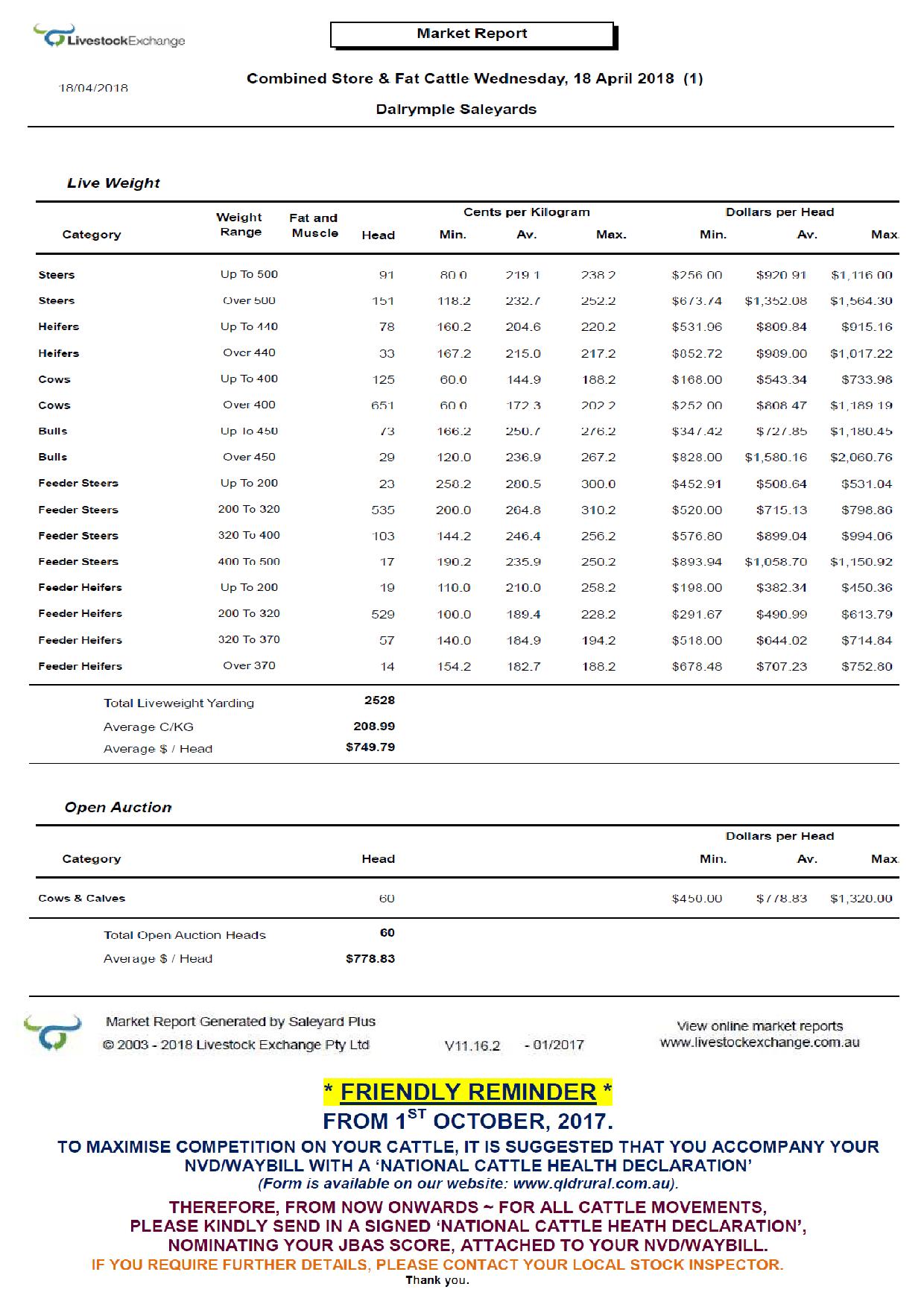 Related Articles