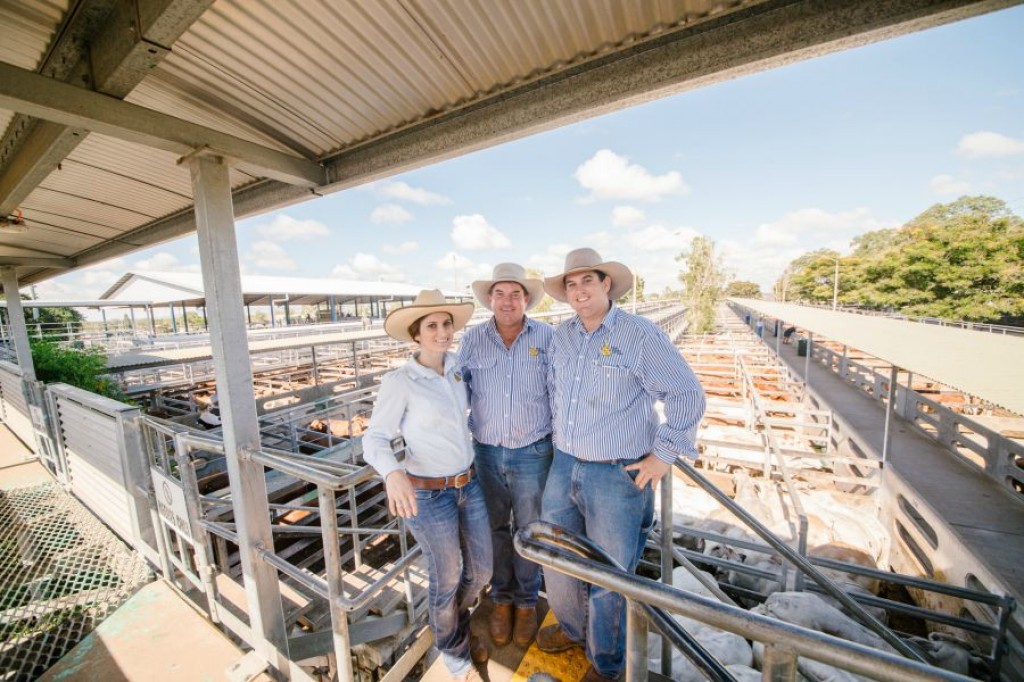 Location: Rockhampton
Yarding: Yarding 2048
GRACEMERE CATTLE SALE 20th APRIL 2018
With yet another dry week coming to an end Agents yarded a total of 3965 head today at Gracemere, comprising of 2048 Steers & Bullocks, 1118 Heifers, 674 Cows, 79 Cows & Calves, and 46 Bulls& Mickies. Cattle were drawn from as far away as Richmond, Collinsville, Nebo, Mackay, St Lawrence and south to Bororen. The market struggled to maintain last week rates under the large numbers with feeder heifers and young heifers the most effected.
HIGHLIGHTS
SPELTA GRAZING GOGANGO sold Droughtmaster cows for 212c/kg weighing 697kg to return $1478/head
R & A SPARROW YAAMBA sold Brahman cows for 211c/kg weighing 545kg returning $1144/head
COORUMBURRA RURAL ENT MARLBOROUGH sold No7 Brangus steers topping at 278c/kg to average 270c/kg weighing 336kg to return $906/head
JUSTIN WICKHAM CAWARRAL sold Droughtmaster steers for 264c/kg weighing 433kg returning $1145/head
SG & J DAVIES UBOBO sold Charbray x weaner steers for 310c/kg weighing 286kg returning $888/head, their weaner heifers made 230c/kg weighing 270kg to return $620/head.
C & K WHITE GLENROY sold Brahman steers for a top of 314c/kg weighing 250kg returning $752/head
PETANN PASTORAL CO GOGANGO sold Brahman cows & calves for $1350/unit
CQLX Gracemere report date 20 Apr 2018 MLA
Yarding 3965
CQLX agents and vendors penned 355 head less this week with a yarding of 3,965 on offer. Cattle were drawn from as far afield as Taroom in the south to Richmond to the north. There was a good percentage of the yard from Bowen and Collinsville districts.
Quality was good with the exception of a couple of pens of lesser bred steers. The usual panel of buyers was present with the exception of one processor although another took their place and this helped to improve prime cow prices.
Well-bred steer calves sold to 334c/kg to restockers. The major runs of vealer steers made from 301c to 305c/kg to be just a few cents behind last week. Vealer heifers again eased to record averages between 220c and 232c/kg.
The best bred lines of yearling steers sold to an occasional 308c to record a 281.5c average for light weights with medium weight yearling steers averaging 272c/kg, most returning to the paddock. Heavy yearling steer sold to feed to average 263c/kg. In the main yearling heifers were a little easier, averaging 223c to 234c/kg dependant on quality.
Grown steers to feed made to a top of 265c and averaged close to 260c/kg.
Grown heifers to feed averaged 220c and processors paid 218c/kg. Light conditioned cows to restockers averaged 140c for light weights with better framed cows making 162c to
185c/kg. Prime heavy 4 score cows sold to top at 212c to average at 203c/kg. Heavy bulls averaged 226c/kg for the best which went to live export. Reasonable quality cows and calves were slightly easier selling to $1,350/unit.
Cows with a good frame and new calves made over $1,050/unit.
DESCRIPTION

MAXIMUM

AVERAGE

Market Change

Steers

Slaughter

234.2c/kg

212.0c/kg

firm

400-500kg

274.2c/kg

252.2c/kg

-5

300-400kg

364.2c/kg

252.2c/kg

-24

200-300kg

342.2c/kg

275.5c/kg

-23

Under 200kg

334.2c/kg

271.8c/kg

-40

Cows

Slaughter

238.2c/kg

192.9c/kg

firm

400-450kg

231.2c/kg

191.3c/kg

firm

320-400kg

217.2c/kg

173.7c/kg

+28

0-320kg

158.2c/kg

130.8c/kg

+19

Heifers

Heavy

219.2c/kg

208.2c/kg

-17

300-400kg

225.0c/kg`

180.1c/kg

-25

200-300kg

226.2c/kg

222.3c/kg

-7

Under 200kg

222.2c/kg

217.2c/kg

+15

Cows & Calves

$1375p/unit

$1048p/unit

Bulls

Over 600kg

234.2c/kg

220.7c/kg

-14

450kg-600kg

258.2c/kg

230.4c/kg

+13

0-450kg

270.2c/kg

210.1c/kg

-7
CLICK ON IMAGE

Related Articles