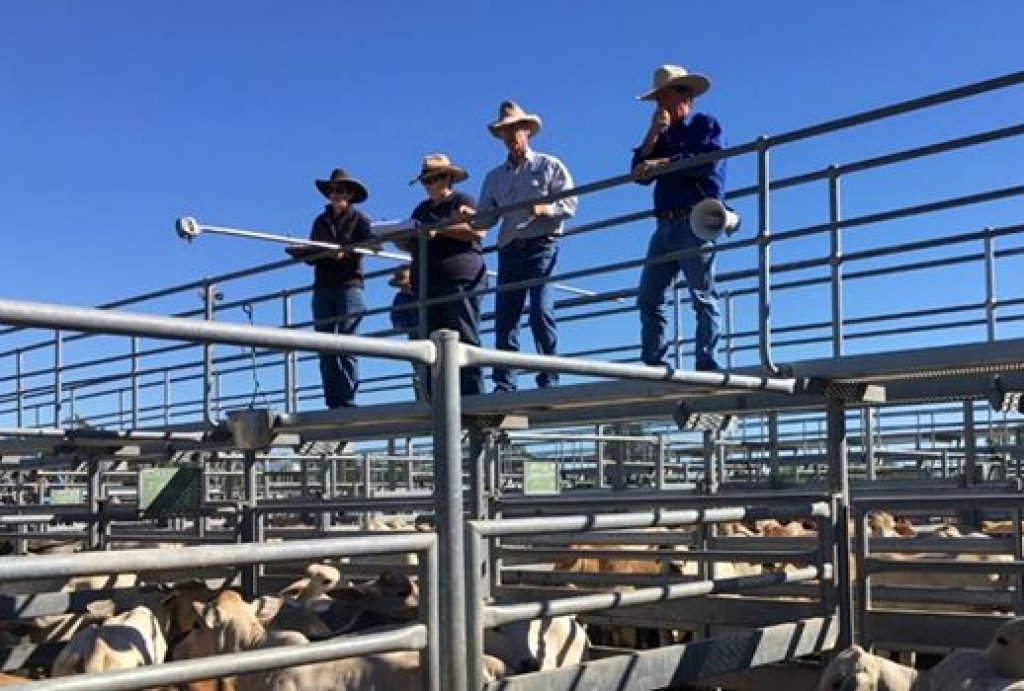 Yarding: Yarding 1350
PRIME & STORE CATTLE SALE
THURSDAY 22nd FEBRUARY 2018

Emerald agents sold 1350 head in 2 hours, in a rain reduced yarding made up almost entirely of cattle from western and north western regions. As one could imagine most consignments were in store condition, presentation was solid however there was a drop-in quality. There was a full field of buyers however limited numbers in some class's hampered buyer interaction.
The market in general whilst not reaching any dizzy heights, showed an upward trend however was dictated somewhat by the quality offered. Creating the most action for the day was a run of older store cows which sold exceptionally well, selling up to 30c to 40c above previous results.
Genuine slaughter cattle were very limited for numbers, most classes showed slight improvement, however better condition cows under 450kg sold exceptionally well. Genuine feeder's male or female were too few to quote. There were virtually no local weaners offered and whilst we feel for the vendors. Most younger cattle from the drier areas are truly showing the effects of long term dry conditions. With that said, weaner steers for what was offered showed improvement. It was pretty much the same story with the weaner heifers, however buyers pushed light weight fresh weaner heifers not effected by drought, to rates well above recent sales. Cows and calves were too few to quote.
Slaughter; Limited numbers and the influence of store conditioned adults throughout, make it hard to supply accurate averages. Bullocks over 550kg sold to 262c. Heavy steers 500-550kg & Heavy heifers over 400kg were too few to quote. Heavy Cows over 520kg sold to 216c. Medium Cows reached a top of 210c. Light Cows 300-400kg peaked at 206c. The best heavy Bulls made to 255c.
Store; bullocks made to 252c. Store cows (as mentioned above) were in demand, as were a line of strong store conditioned # 5 brahman females, selling from the early 200c mark to a peak of 220c.
Feeder; Feeder Steers 400-500kg sold to 266c. Light Feeder Steers 350-400kg sold to 276c. Steers 280-350kg sold to 270c. Feeder heifers 350-400kg were too few to quote. Heifers 280-350kg remained steady to a/v 242c.
Weaner; Steers 200-280kg sold to 354c. Weaner steers under 200kg a/v 330c to remain firm.
Weaner Heifers 200-280kg improved by 10c selling to 274c to a/v 244c & Weaner Heifers under 200kg topped 310c to a/v 265c up 29c.
2 pens of single units of Cow & Calf sold for $ 1030 & $ 1660 per unit.
SALE HIGHLIGHTS
P Hall "Oorindi" Cloncurry sold a run of Brahman & Brahman X cattle, the Cows sold to a/v 202c, 392kg to return $789, the Steers sold to a/v 239c, 390kg to return $932 and the Heifers sold to 364c, 293kg to return $773.
Oorindi – Cows

Curraweena Partnership "Allambie" Springsure sold Heavy Brahman X Cows weighing 575kgs, 210c to return $1208.
Carinyah Grazing Co "Carinyah" Willows sold Charbray X Cows to 213c, 524kg to return $1117.
Bree Ann Bulger "Carinyah" Willows sold a Brahman X Cow for 213c, 585kg to return $1247.
David & Lynette Keene " Garden Creek" Springsure sold No 6 Brahman X Meatwork Steers to 269c, 501kg to return $1348. They also sold Heifers to 244c, 392kg to return $958.
BP & SM Kersh Woodstock sold Brahman X Steers to 336c, 247kg to return $833.
The Esmond family of 'Lucknow' Capella consigned Droughtmaster X Bullocks reaching 256c, 785kg to return $2011.
Beak family 'Riverview' Comet sold Santa X Cows to 210c, 584kg to return $1228.
Robert Chaplain 'Erap' Richmond offered Red Angus Steers to 354c, 202kg to return $715, while the Heifers sold to 275c, 181kg to return $498.
| | | | | | |
| --- | --- | --- | --- | --- | --- |
| Category | Weight Range | No. of Head | Price Low | Price High | C/kg Av. |
| Bullocks | 550-750kg | 39 | 190 | 262 | 258 |
| | 500-550kg | 15 | 241 | 269 | 259 |
| Steers | 400 -500kg | 62 | 220 | 266 | 243 |
| | 350 - 400kg | 45 | 186 | 276 | 234 |
| | 280 – 350kg | 34 | 210 | 270 | 258 |
| | 200 - 280kg | 165 | 150 | 354 | 307 |
| | Under 200kg | 175 | 262 | 354 | 330 |
| Heifers | Over 400kg | 4 | 246 | 246 | 246 |
| | 350 – 400kg | 14 | 200 | 244 | 225 |
| | 280 – 350kg | 62 | 200 | 245 | 242 |
| | 200 - 280kg | 148 | 186 | 274 | 244 |
| | Under 200kg | 177 | 234 | 310 | 265 |
| Cows | Over 520kgs | 31 | 207 | 216 | 210 |
| | 450-520kgs | 51 | 196 | 210 | 203 |
| | 400 - 450kg | 60 | 184 | 205 | 185 |
| | 300-400kgs | 212 | 150 | 206 | 188 |
| Bulls | Over 600kg | 5 | 120 | 255 | 211 |
| | 450-600kg | 0 | 0 | 0 | 0 |
| | Up to 450kg | 5 | 223 | 260 | 243 |
| Cows & Calves | Pens | 2 | $1,030 | $1,660 | - |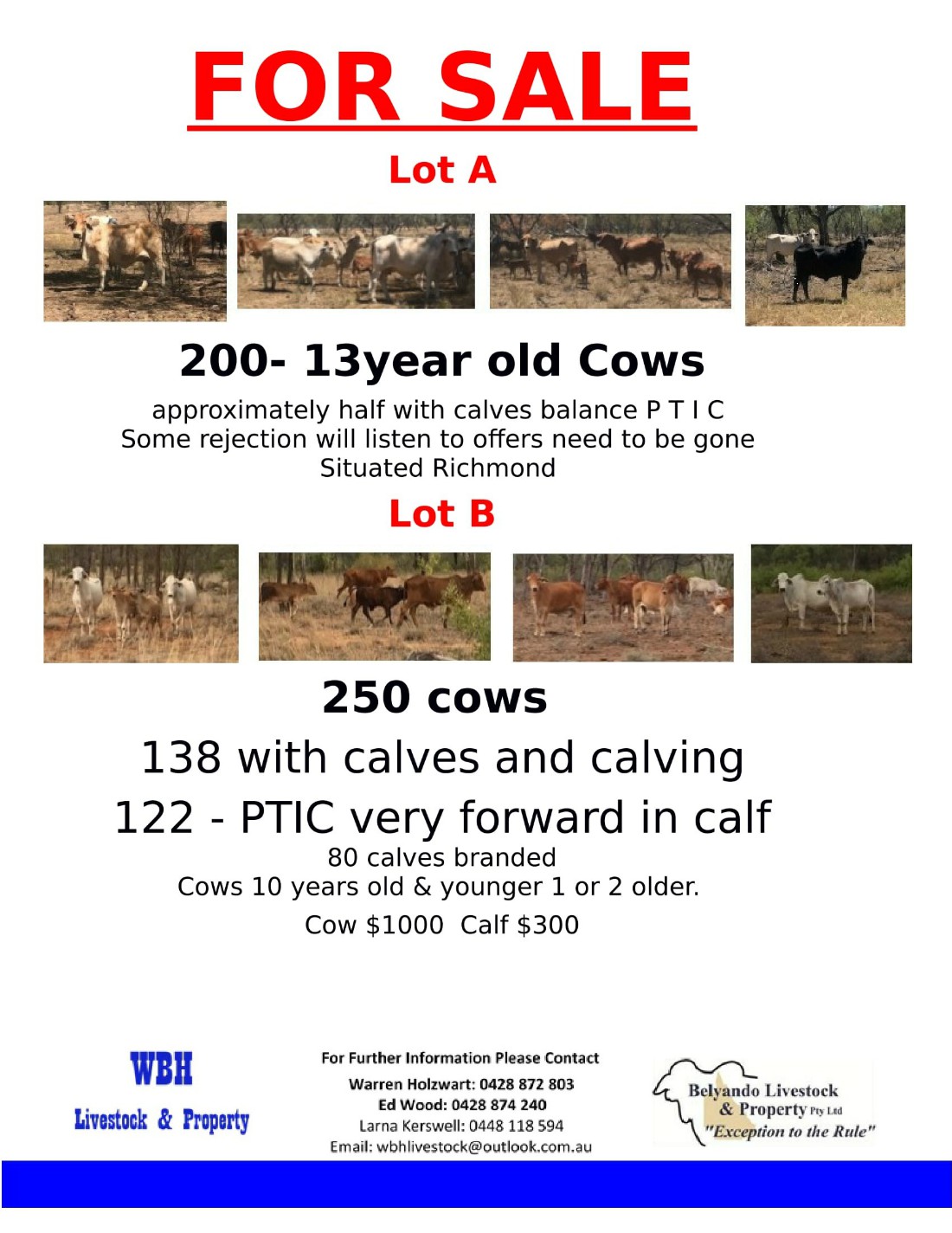 CLICK ON IMAGE FOR ALL INFORMATION
Related Articles