Location: Charters Towers
Yarding: Yarded 2341
Wednesday – 21st February,
2018 Charters Towers Combined Agents yarded a total of 2341hd.
Cattle consisting of 1066 Prime Cattle and 1275 Store Cattle. The Prime Cattle consisted of 251 Bullocks, 65 Heifers, 707 Cows and 43 Bulls. Store Cattle yarded: 646 Steers, 444 Heifers and 185 Cows & Calves. Cattle comprised of good lines of well finished Bullocks and Cows along with a portion of the yarding showing the effects of the season.
The yarding was drawn from Collinsville, McKinlay, Cloncurry, Prairie, Julia Creek, Richmond, Georgetown, Local & Coastal areas.
Prime Quotes:
Bullocks were quoted 3¢ dearer, Heifers were firm, Cows were 5¢ easier and Bulls were unchanged, on last week's rates
• Brahman X Bullocks sold on a/c Scona Pastoral Co, Charters Towers topped at 253¢/kg, weighed 644kg to return $1631 per head.
• Best priced Trade Heifers were presented on a/c Ken Peace, Charters Towers which made 250¢/kg to weigh 388kg and return $971 per head.
• The top pen of Cows were sold a /c GT Batt, Kooroora, McKinlay for 219¢/kg and weighed 565kg to return $1238 per head.
• Bulls sold on a/c SW Pemble, Barrington Stn, topped at 252¢/kg and weighed 717kg to return $1807 per head.
Store Quotes:
Store Cattle comprised of some very good runs of Steers which sold up to 2¢ dearer on last week's rates, where the Heifers were of mixed quality and were back 3¢ on last week. Better lines of Cattle still selling well with plainer types finding reduced competition.
• A very good quality line of 260 Brahman Steers a/c Mt McConnell Grazing avg 297¢/kg and weighed an avg of 256kg returning $760 per head.
• A good pen of 16 Grey Brahman Heifers a/c Ken Peace made 258¢/kg, weighed 251kg & returned an average of $647 per head.
• A large yarding of Cows & Calves with the vast majority being of mixed quality and showing the effects of the season selling from $350 - $1020 per head.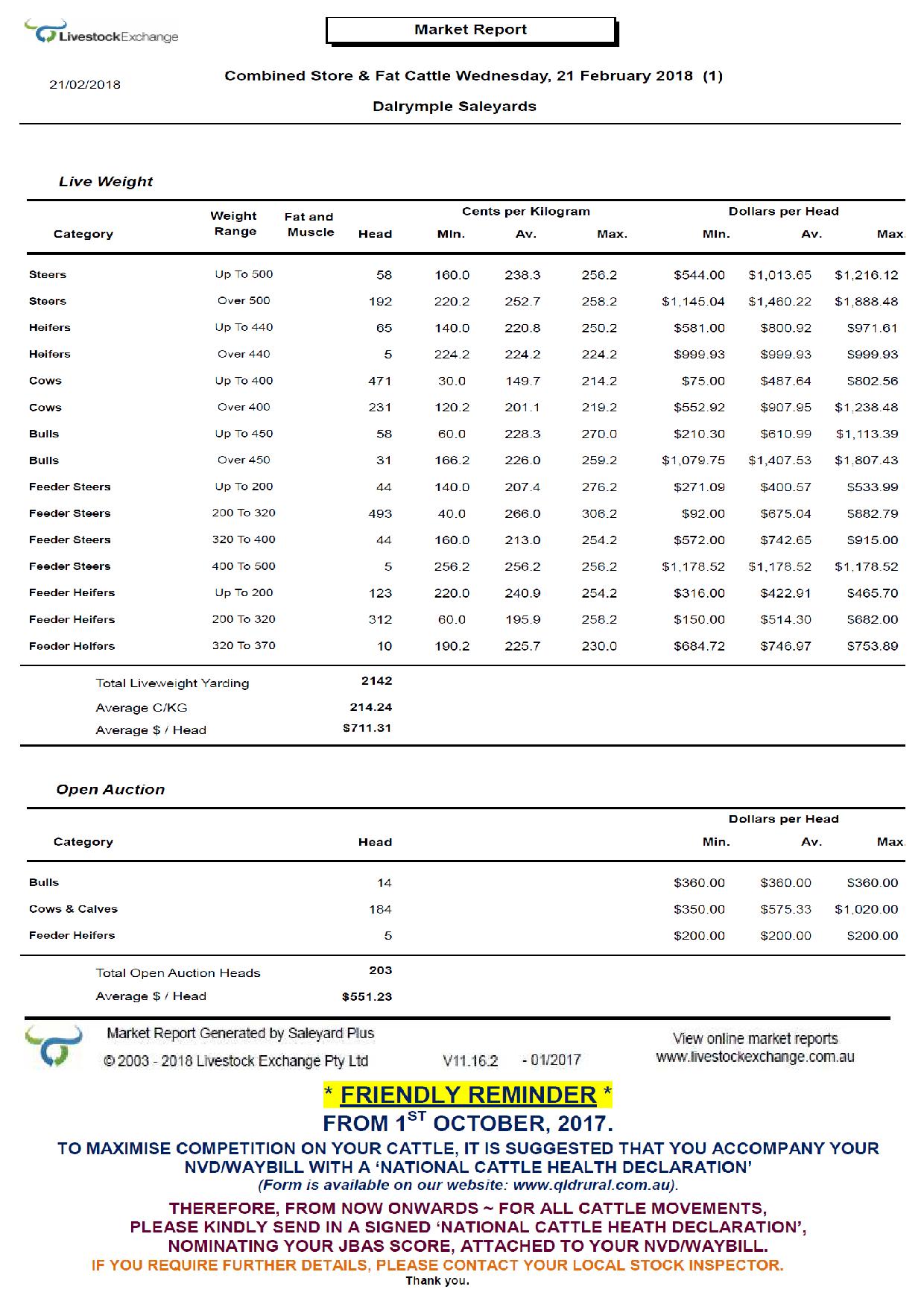 Related Articles