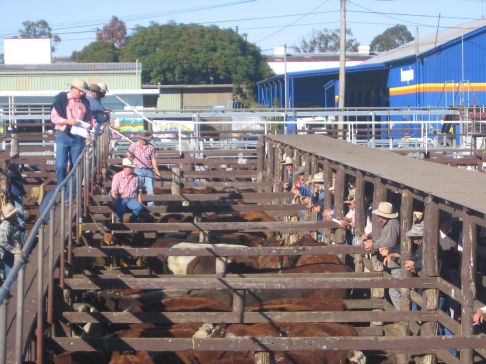 Location: Toowoomba
Yarding: 842
Toowoomba report date 20 Nov 2017
Yarding 842
There were a few more cattle yarded this week for a total of 842 head. The yarding consisted of a good supply of yearlings, along with increased numbers of grown cattle. The supply of young cattle was made up of a larger percentage of heavier yearlings in good 2 and 3 score condition, along with a fair number of lighter plain yearlings.
There were several pens of well-bred yearlings that attracted keen interest from restockers and feeders.
Competition was generally stronger with light weight restocker yearling steers selling to a top of 369c/kg. Feeder steers sold up to 20c dearer in places depending on weight and breed, selling to 328c and more in some places, to average 320c/kg. Light weight restocker yearling steers topped at 369c/kg. Feeder heifers also gained 20c topping at 331c, to average 318c, while trade heifers sold to a top of 320c/kg. One Limosin vealer steer made 800.5c/kg after competition between two buyers, both seeking to take it to show.
The yarding of export cattle consisted of a good supply of bullocks, steers and cows. There was runs of well finished high yielding bullocks and steers offered, that met keen demand from processors. Prices were firm to 5c dearer, topping at 303.2c, to average 290c/kg. Heavy feeder steers averaged 296c/kg. Grown heifers sold to a top of 286c/kg.
There was also a good quality yarding of medium and heavy weight cows, that saw 3 score medium weights average 234c to be up by 13c, while heavy 4 score cows
were 4c dearer topping at 254c/kg.
Related Articles